Always call 811 before starting any digging project!
Indiana Customers
If you're planning to dig on your property, a free call to 811 is the most important thing you can do to avoid hitting underground utility lines. When you call 811 from anywhere in the country, your call will be routed to your local One Call Center. Local One Call Center operators will ask you for the location of your digging job and route your call to affected utility companies.  All applicable utility companies will then send a professional locator to your location to mark your lines within two full working days. Once your underground lines have been marked, you will know the approximate location of your utility lines and can dig safely, because knowing what's below protects you and your family.
After your utility lines are marked, you can begin digging. Indiana state law mandates a two-foot safety zone on either side of the marks. In the safety zone, you can only dig with hand tools. For more information go to www.Indiana811.org/Five Steps for Getting Your Utilities Marked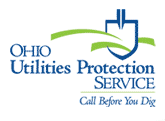 Ohio Customers
By law, everyone MUST contact O.U.P.S., 1-800-362-2764, at least 48 hours but no more than 10 working days (excluding weekends and legal holidays) before beginning any digging or excavation work. This regulation also applies to smaller or personal projects to include but not limited to digging fencepost holes, anchoring supports for decks and swing sets, planting trees, removing tree roots and driving landscaping stakes into the ground. 
Once your property is marked, proceed with care, allowing at least an 18 inch "tolerance" zone on either side of the marked utility line. Do not remove flags, stakes or paint marks until you are finished digging. Make sure pets and young children do not disrupt or remove markers. For more information go to www.oups.org/Homeowners/WhatYouNeedtoKnow
When in doubt, don't make a judgment call – call 811