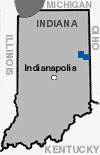 129 East Main Street
P.O. Box 1068
Portland, IN 47371-3168
First Digit of Account Number: 1
Jurisdiction Code: 2401
(260) 726-8114
After-Hours Emergency Service:
(260) 726-8114
Counties Served:
Jay
Portland is the county seat of Jay County. Jay County is very successful in attracting and keeping industry of all types. Portland is able to develop industrial park sites as fast as they are taken. OVG is keeping up by having the gas delivery system (pipe in the ground) in place when it is needed. The business district, Meridian Street, US 27, has been renovated bringing beautification and modernization to Portland.
Portland District includes the cities of Portland and Pennville and parts of Jay County and northern Randolph County.
Additional communities: Center, Bluff Point, and College Corner.