Save Paper – help the environment by having your bills delivered via email! 
View and Pay your bill anytime from the comfort of your home safely and securely with 24/7 access!

It's faster, easier & cuts down on clutter!
Each month you will receive an email from Ohio Valley Gas notifying you that your eBill is ready to be viewed online. This email will feature a link that will take you directly to the home page of our website where you can click "Pay My Bill" and pay your bill online OR you can choose from many of the following options: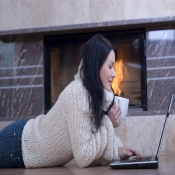 Automatic Debit  – Set up automatic debit from your checking or savings account
Credit/Debit Card – Pay with your credit/debit card in our office, or by telephone (1-877-690-3729 Jurisdiction Code 4504)
eCheck – click "Pay My Bill" on our website and choose to pay by eCheck
Mail – Mail in your check using your 9 digit account number in the memo section of your check

By filling out the form below you can start receiving your gas bill online. Working together, we can make a difference for a better future!!
(Please enter your 9 digit Account Number when filling out this form)